Create urgency and scarcity that drives clicks, increases sales, highlights upcoming events or deadlines.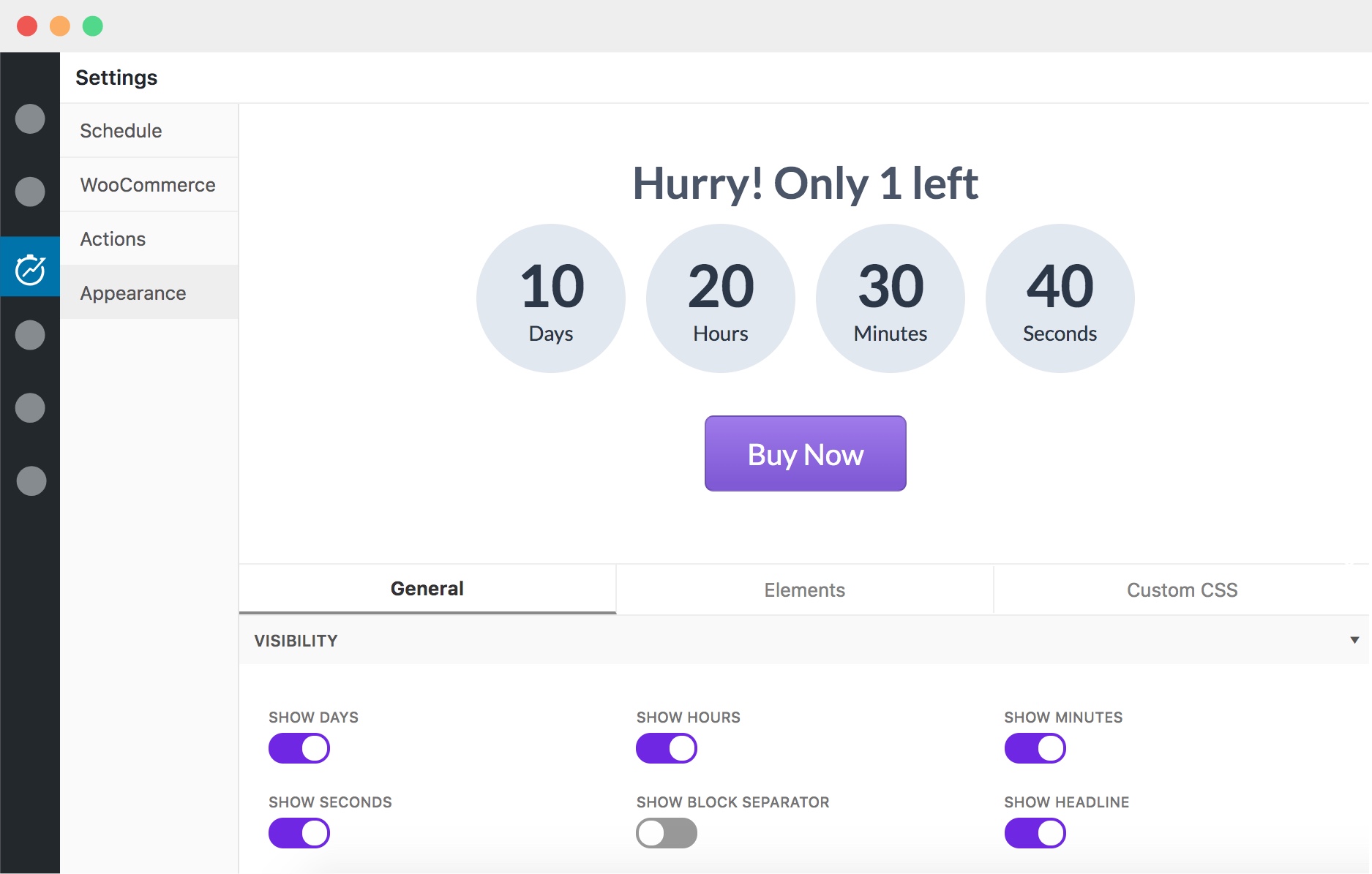 Built for Marketers to Maximize Conversions
Show unique countdown timer for each visitor
Give each visitor their own unique countdown timer regardless of their local timezone and the moment they visited your site.
Recurring Campaigns
Recurring campaigns are self repeating countdown timers that run according to a set of rules. It's great way for telling customers about shipping cut-off times to get them to checkout faster.
Fixed Deadline Campaigns
Run campaign between two fixed dates. No matter who visits your site the countdown timer is the same. It's a great way for event-based sales with a firm deadline.
Integrated with WooCommerce
Easily display a countdown timer on the product page to drive more add to cart button clicks.
Expiry Actions
Take action when time is up: Redirect to another page, hide countdown timer, display custom message, expire coupon code, change stock status, Hide "Add to cart" button
Sticky Announcement Bar
Keep your promotions top-of-mind by displaying the countdown timer in a customizable and mobile-friendly bar that sticks to the top or bottom of any page.
Customize to fit your site design
Visually customize the countdown timer style to fit your site's design and your marketing strategy.
Custom CSS
Add your own CSS code to take control on your countdown timer's appearance.
Join Over 20,000+ Websites using HurryTimer
Get The Most Powerful Marketing Countdown Timer...with a Simple and Affordable Pricing.
Purchase in confidence with our 14 Day Money Back Guarantee - see our refund policy.
Annual
Lifetime

Massive Savings!
Personal
1 website
Buy Now
Renews annually
Includes all PRO features
Updates for 1 year
1 year of priority support
Marketer
Up to 5 websites
Buy Now
Renews annually
Includes all PRO features
Updates for 1 year
1 year of priority support
Agency
UNLIMITED websites
Buy Now
Renews annually
Includes all PRO features
Updates for 1 year
1 year of priority support
`
FAQ
What payment methods do you accept?
Transactions are handled by Gumroad. You can safely purchase HurryTimer Pro with your PayPal account, or with a credit card.
How do I generate an invoice?
You'll find a link to generate an invoice in the purchase confirmation email. For more information read the Gumroad FAQ on invoices
How do I download the product?
After purchase you will receive a confirmation email including your download link and your license key. If you haven't receive it you can request your purchase receipt here.
How is VAT handled?
VAT is automatically handled by Gumroad. If you have a VAT ID you can enter it on your invoice, if you're not required to pay VAT, Gumroad will automatically issue a refund.
Can I upgrade to another plan later? and how much should I pay?
Sure! and you only pay the difference. Ready to upgrade now? Contact us
Can I cancel my annual subscription?
Yes, you can cancel your annual subscription for a Personal, Marketer, or Agency license at anytime. You will continue to receive updates and support until your license key expires, one year from the purchase date.
Is WooCommerce required to use the plugin?
No, HurryTimer is standalone, so it doesn't require WooCommerce to work.
Can I transfer the HurryTimer Pro license key to another site?
Yes! Just deactivate the license key from your admin plugins page, and activate it the the new website.
How do I contact support?
All licenses include priority support. Use the support form to submit your ticket.
Do you offer refunds?
If you're unhappy with your purchase, no worries, we offer a 14-days money-back guarantee. See our refund policy
Got more questions? contact us. We're just a click away!.
Subscribe to our Newsletter
Receive notifications to stay up to date on new HurryTimer plugin releases and offers.